Environmental, Social and Governance (ESG)
Environmental - Management of Buildings
Throughout our management portfolio we aim to ensure that systems are in place to help understand our potential impact on the environment, such as waste stream monitoring, accurate smart metering in order to identify improvements in waste energy and solar power feasibility studies.  In understanding this impact, we are able to shift our behaviour and services in a positive way and set targets for improvement.
Social
We are an advanced member of the Good Work Pledge Scheme, whose five key pillars of good practice are:
Valuing and rewarding the workforce
Promoting health and wellbeing
Effective communications and representation
Developing a balanced workforce
A social responsibility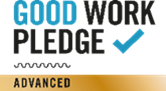 We have a Naylors Gavin Black Fund as part of the Community Foundation.  The fund was established to support grassroots projects across Tyne & Wear and Northumberland, with a focus on priorities identified through the Community Foundation's Vital Signs research including 'cold spot' areas and communities affected by social deprivation.

Governance - Our Values
Our company values are:
I will be the best at what I do
I will become the best that I can be
I will always give the best I can
We take seriously our responsibility to ensure that our business is performing safely, ethically, sustainably and efficiently.
Adhering to, and improving standards means we are able to set targets, and make positive shifts in behaviour, by way of holding ourselves accountable to our colleagues, clients and the wider community.
Environmental
We are committed to reducing our carbon footprint and encourage all staff to be involved and undertake environmental training.  
We are involved in the cycle to work scheme and also provide discounted rail/bus tickets for staff to encourage the lesser use of cars.  We also have 2 'pool cars' and encourage members of staff to use or walk to meetings rather than go in a number of different cars to use taxis.
We encourage recycling.  We have recently provided every member of staff with reusable metal water bottles from a local company, to lessen the use of plastic around the office.  It is our responsibility to reduce our impact on our local area, through socially conscious working methods and acting in the best interests of our local area, as well as creating opportunities for local businesses to provide services and employment.
We have movement sensors in our main office and smaller interview room to ensure lights are switched off when not needed.  Our main meeting room and kitchen have signs reminding users to switch off lights.  We also review our electricity invoices from one year to another to ensure that usage is being reduced.
We encourage a paperless office and monitor this by the amount of paper purchased from one year to another.  Where the use of a photocopier is required, we encourage printing on black and white rather than colour.  The proportion of printing now done on black and white compared to colour has increased to 50% from 70%.
Our first port of call is always local.  All employees are encouraged to fully investigate the implications of the choices they make in relation to environmental impact and sustainability, for example sourcing contracts and materials from the local area and choosing environmentally friendly options where possible.