Collingwood House sells for £2.95m in major investment deal
July 2015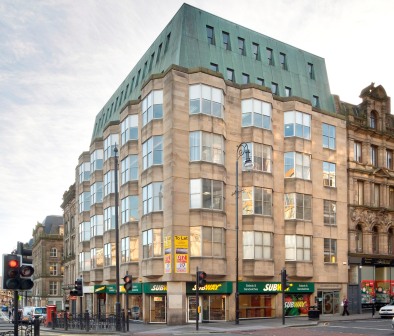 Naylors' Investment department recently sold Collingwood House in Newcastle city centre for £2.95m on behalf of Buccleuch Property.  The building has been acquired by a syndicate client of Edwin Thompson's chartered surveyors.
Located in the heart of Newcastle's commercial district, the mixed use commercial development currently produces a rental income in the region of £268,000 per annum, reflecting a yield of 8.6%.
The seven-storey building, which has 19,570sqft of fully-refurbished retail and office suites, is located on the corner of Collingwood Street and St Nicholas Street, opposite St Nicholas Cathedral.  Tenants include Subway, Simpson & Marwick Solicitors and Pearson Professional Investments Ltd.
Buccleuch Property originally acquired the building back in 2000 and since then Naylors property consultants have provided management, building consultancy, lease advisory and valuation services in relation to the property.
Fergus Laird, director of investment at Naylors, said: "We were delighted to be instructed by Buccleuch as sole selling agents, having acted for them in respect of various property matters for many years.
"With a dwindling city centre office supply and the ever improving investment market Collingwood House presented an excellent opportunity to potential investors. We were able to secure a purchaser after just a few weeks of marketing and a very high level of interest."
Philip Eves, Director of Buccleuch Property commented: "We are extremely pleased with the interest and outcome achieved at Collingwood House. This reflects the proactive asset management strategy adopted with this property, bringing to market a quality refurbished building with a strong tenant mix.  Newcastle is already home to some major national office operators, and demand is high throughout the commercial sector due to a strengthening North East economy and a strong transport network. With a decreasing supply of quality city centre office space in Newcastle, Collingwood House has presented a strong investment opportunity, which will continue to deliver in the future."
For further information about how our Investment team can help you please contact Fergus Laird on 0191 211 1561 email: ferguslaird@naylors.co.uk