Following a successful year the North East industrial market faces a dearth of big sheds
March 2015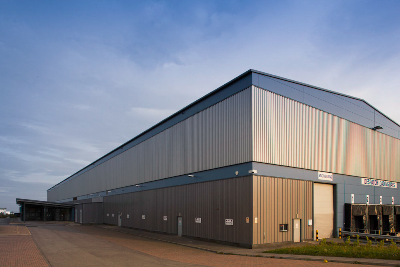 As the North East industrial property market continues to gather pace, the region faces a dearth of big sheds, leaving the outlook for attracting new, large job-creating companies, restricted by a shortage of suitable buildings.
This time last year it was anticipated that 2014 would be a busy and successful year for the North East industrial market, particularly in relation to the take-up of big sheds of over 100,000 sq ft.  It was also predicted there would be a significant shortage of big sheds in the region by the end of 2014.
A year on and following a raft of sales and lettings, there are now no grade A big sheds available in the North East above 50,000 sq ft.  Demand for big sheds continues to be driven by the manufacturing and distribution sectors.
During the past 12 months the North East has seen a number of significant deals including; the disposal of 260,000 sq ft at Drum Industrial Estate in Chester-Le-Street to Coveris, 250,000 sq ft at Foxcover, Seaham to Andrew James and Kans and Kandy respectively, 100,000 sq ft to Lanchester Wines at Blaydon and 130,000 sq ft to Calsonic Kansei at Doxford Park, Sunderland.
There are currently no new big sheds in the development pipeline, however Naylors are in discussions with three occupiers for large design and build opportunities.  Developers do not want to risk building large sheds speculatively, however we suspect this mindset may change further into 2015.
Developers are promoting large sites and Naylors are actively marketing a number of sites for development including; 11 acres with full planning consent at Drum Industrial Estate on behalf of Gladman, 40 acres on Team Valley on behalf of UK Land Estates and 12 acres on behalf of The Northumberland Estates at Tyne Tunnel, where construction of the first phase of Axis 19 is underway.  In addition there are 90 acres in phase one at Bowburn Industrial Estate in Durham with outline consent.  Vantec are looking to build 330,000 sq ft beside their existing facility at Turbine Business Park, Washington to further expand their logistics operation there.
Although there are no big sheds currently on the market, there is light at the end of the tunnel as approximately 400,000 sq ft of secondary big sheds are due to become available in late 2015.  We suspect given there is nothing around currently and the demand in the market, there will be good interest in these units.
There is now a stronger case than ever to bring forward large-scale speculative industrial development.  The North East is a well established manufacturing and logistics hot spot with many companies attracted to the region by the availability of a large skilled workforce, well priced land and excellent transport links.  It is important we continue to offer a good supply of large industrial facilities to accommodate new enquiries and attract opportunities for inward investment.
Keith Stewart is Director of Industrial Agency at Naylors Chartered Surveyors.