Frank Recruitment Group relocates 300 staff in move to St Nicholas Building
July 2017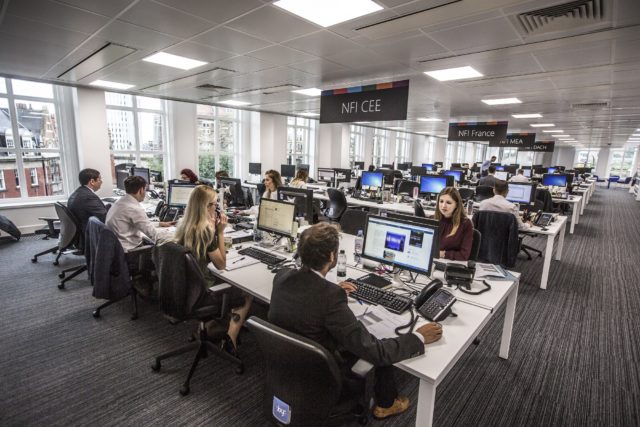 Naylors' Office Agency team has completed the letting of over 19,000 sq ft of office space in Newcastle city centre to Frank Recruitment Group (FRG).
The international technology recruitment business has moved over 300 staff into the new offices which span two floors of St. Nicholas Building.
An 11 year lease has been agreed and Naylors is now close to completing a £1m refurbishment project at the building.
In the past six months St Nicholas Building has also attracted new tenants Sir Robert McAlpine and Lichfields, who have taken over 13,000 sq ft across the 1st and 3rd floors of the 64,000 sq ft building.
Jessica Simpson, senior surveyor in office agency at Naylors said: "We are finding that there is genuine demand for offices which have been refurbished to a high standard and provide first class working environments such as St. Nicholas Building.
"Following this recent spate of lettings we now only have 3,400 sq.ft of office accommodation available at St Nicholas Building together with 25 car parking spaces, which can be made available independently."
FRG, which was established in 2007 with the launch of the original Nigel Frank brand, specialises in the enterprise software market, employing over 700 people across sites in Newcastle, London, Melbourne, New York, San Francisco and Singapore.
In 2016 US investor TPG Growth acquired a majority stake in FRG from its founders, as well as private equity firm Livingbridge, which had invested in the business in 2013 to help it continue to diversify and grow.
To accommodate this growth the firm identified St Nicholas Building as a new North East base and has relocated staff from a number of offices in Newcastle including Collingwood House, where Naylors had leased two floors to the firm in 2014.
James McDonagh Director EMEA at Frank Group said: "With the new space available at St Nicholas Building, Frank Recruitment Group is looking to recruit an additional 150 sales roles in Newcastle before the end of the financial year.
"The investment in quality space and personnel underpins Frank Recruitment Group's ambition and dedication to deliver the best freelance and permanent niche technology experts to vendor channel partners, SME and Enterprise organisations across the world."
Dean Clark, associate director in building consultancy at Naylors said: "This has been a very successful project as our refurbishment programme has helped to meet the requirements of the incoming occupiers.
"For FRG we have been able to carry out a series of remodelling works to help ensure the floor space compliments their desk layout and density. The second floor has been entirely refitted and now provides a fantastic open plan working environment with reception area, meeting rooms and breakout space."
London-based property agency Savoy Stewart acted on behalf of FRG.