Improved outlook for Lord Londonderry in Durham
March 2014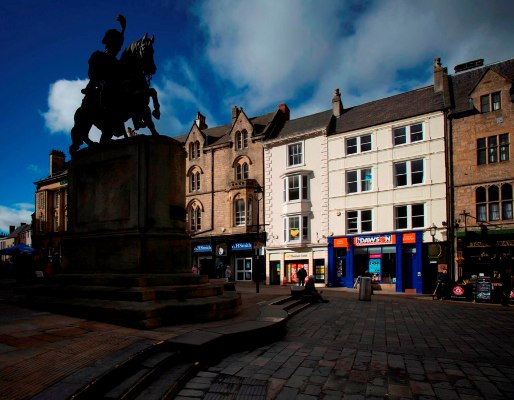 Naylors has project managed the conversion of a former four storey office building in Durham Market Place into student accommodation, which is now fully occupied.
26 Market Place, which is owned by a private investor, is a traditional four storey building located within Durham's central conservation area overlooking the historic statue of Lord Londonderry.  The upper floors were formerly office space that had remained vacant for several months while the ground floor retail unit is occupied by a travel agency.
The upper floors of the property have now been transformed into a student dwelling for multiple occupation with five generously sized double bedrooms, two bathrooms, laundry room and a spacious open plan kitchen and lounge overlooking the recently regenerated market square.
Naylors were instructed to design, specify, tender and manage the conversion and alteration works.
Simon Craigs, building surveyor at Naylors commented: 'Due to the nature of the building and its location we were initially brought in to advise the client on the feasibility of such a conversion.  Our findings favoured the conversion and with high demand for student accommodation in central Durham the project proved to be a great success.'
Naylors office agency team were also appointed and completed negotiations with an independent student letting agency to secure the pre-let of the converted premises.
Bill Naylor, director at Naylors commented: 'The property is situated in a fantastic central location, with great retail and leisure facilities on the door step, making it ideal for student accommodation.  We were very pleased to secure the pre-let of the property prior to completion of the project at relatively high rents.'
This project follows a spate of office to residential conversions following a change in the law last year when the government introduced permitted development rights to allow conversion of existing office accommodation to residential use without the need to obtain planning permission.
Bill added: 'This conversion demonstrates how assessment for alternative use is very relevant in the current market.  The government introduced these changes in a drive to recycle redundant building assets and in some cases it is possible to make better use of empty buildings, particularly offices that are at the end of their natural commercial life.'