Last Supper - Fergus Laird
April 2020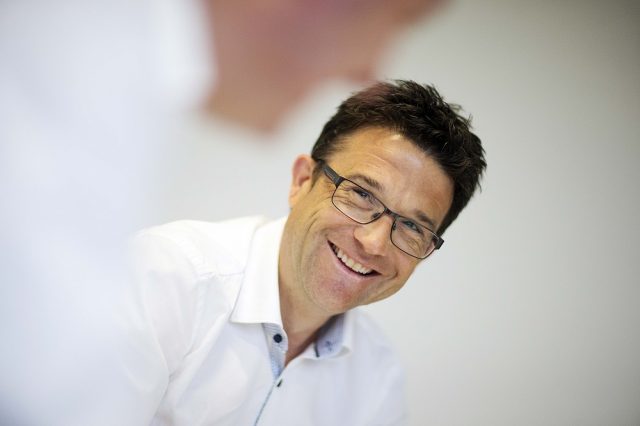 As featured on the North East Times website, Fergus Laird describes his ideal dinner party. Find out what will be on the menu and of course the big question – who will be lucky enough to get an invitation?
Who would you invite to your 'Last Supper' and why?
Mick Fleetwood: Ever since helping myself to my sister's copy of Rumours as a teenager, I have been a massive Fleetwood Mac fan – both their early Peter Green blues stuff to their latest incarnations, albums and tours. I would have many questions for Mick – though I do know rather a lot about the band already, having probably read every book and article ever published about them. I've always said the band would be my specialist subject on Mastermind. Mick has been there for just about the whole journey, so he gets the seat at my table.
Peter Sagan: Having discovered cycling in the last ten years or so – and like many, becoming slightly obsessed by it – I very much enjoy the many personalities of professional cycling. Peter Sagan is an exceptionally talented mountain biker who can do all the tricks and a real character among the road cyclists in the Grand Tours. I am sure there will be some very interesting anecdotes from him.
My Grandad,  John Laird: Although long since gone, we've only recently discovered he was a medic in the army during WW1 and helped those injured at the 1917 Battle of Passchendale in Belgium. We knew he had been a miner in Glasgow –but we didn't know he had been at Passchendale until my own father wrote his life story. He had respiratory problems which we thought were from his time in the mines, but his lungs had been damaged by being gassed on the battlefield. I wish I could have a conversation with him about his experiences –although it seems when alive he didn't want to talk about it.
Dr Richard Cree: One of my cycling pals from home (Hutton Rudby in North Yorkshire). He has always held the room with his anecdotes but presently as a consultant in intensive care medicine at the James Cook Hospital in Middlesbrough, is leading the fight against Coronavirus as only he knows how – with a level of calm and humour and clearly much experience – just what is needed by those professionals around him as well as his patients. His blog is compulsive daily reading and would hold the breath of fellow guests with his take of the current situation – www.nomoresurgeons.com
Chris Stewart, author and ex-member of Genesis: My brother introduced me to a travel book called Driving Over Lemons some years ago and I devoured in one sitting. I have satisfied my wanderlust through travel books for many years now and this one is well written and gives you the desire to pack up the rat race and go and buy a rundown shack in Andalusia. I think Chris may well have some anecdotes about early Genesis too.
What would be on the menu and why?
Starter – scallops
Main – Jamie's roast chicken tikka
Dessert  – a selection of homemade ice-cream
What would people be offered to drink?
Gin and tonics, followed by a good bottle of Rioja and Macchiato coffees
Where would the meal take place?
There is a private room at the Cleveland Tontine, where we celebrated my wife's 40th birthday. It would be the perfect size for this celebration and a short taxi ride home – so thoroughly practical. Sadly we don't go to the Tontine much these days but the room would be perfect for the meeting.
Who would do the cooking? 
My chef is a toss-up between Andrew Pern, who is the chef and proprietor of the Star at Harome – one of the best places I have ever eaten, or Eugene McCoy, who currently runs the Crathorne Arms. I'd have to go with Eugene. He also used to run the Tontine and is not only a spectacular chef but a bit of a local personality. I would hope once his cooking duties were finished, he would come and join the party in his old establishment. He could tell us all about the gigs in the 1960s at the Kirk (another ex-McCoy establishment), which hosted acts such as Eric Clapton and Jimmy Hendrix.
Would there be a theme for your dinner party?
I am not a fan of 'themes'.  There will be fine wine, food and chat.  That will be the theme. Certainly, no fancy dress!
Would there be any entertainment/background music?
I have seen local artist Val Boyers play a live set a few times. My wife and I wanted her to play at our wedding seven years ago now, but unfortunately, she couldn't make it.
What would be the topic(s) or conversation?
I think, with this guest list, we can talk about many things: what it's like to be at the front line of the Coronavirus crisis in the hospital with Rich Cree, mountain biking, cycling tricks and the Tour de France with Peter Sagan and the horrors of Pachendale with my grandfather. We could also talk about all things Fleetwood Mac from the 60s through to now with Mr Fleetwood, we about early Genesis and the pros and cons of living abroad with Chris. When Eugene has finished in the kitchen, he'd have much to talk about with Mick Fleetwood with John Mayall's Blues Breakers appearing at the Kirk. I sense we could be talking all night.