Naylors acquire new head office for Andrew James
March 2015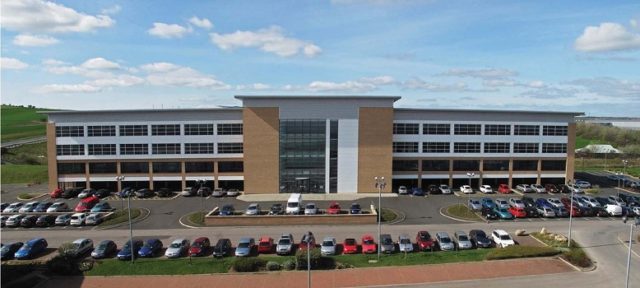 Naylors has acquired a large office building on behalf of online kitchen and appliance specialist, Andrew James UK Ltd, for just under £1 million.
The fast-growing online retail business, which has almost tripled its turnover in the past three years to £17.4 million, has acquired Lighthouse View, a 73,418 sq ft, four-storey office building at Spectrum Business Park in Seaham, County Durham.  The property will become the businesses new head office to accommodate their expanding customer service and business support functions.
The deal follows Naylors' acquisition of a 125,000 sq ft warehouse unit for Andrew James last year at the nearby Foxcover Industrial Estate, providing them with a large distribution hub.  The new combined office and warehouse space provides the firm with nearly 200,000 sq ft, more than double the size of their former premises at Bowburn, which they have outgrown.
Naylors' head of office agency, Simon Taylor, said: "We worked closely with Andrew James to identify a number of potentially suitable office buildings to accommodate their expanding business.  Lighthouse View stood out as the best option due to its close proximity to their existing warehouse, which is within walking distance, and also due and its potential for accommodating future growth in the business.  We were able to secure the property within a short time frame of just eight weeks from the initial instruction to acquisition."
Andrew James currently employs 93 members of staff, a figure it plans to increase by a further 25% as part of its move to the new premises.  This includes creating additional jobs at both the distribution centre and the new head office.
Andrew Tomlinson, director at Andrew James said: ""We are very excited for the future, and we have ambitious plans to put into place. With the assistance of Naylors we feel that we have secured the head office and distribution facilities that will enable us to accelerate and successfully implement these plans in the years ahead."
Last year Naylors also achieved the largest office letting in East Durham in over 10 years at Whitehouse Business Park where clothing manufacturer, the AMA Group, signed up to a 10 year lease on a 46,000 sq ft office building.
Tony Wordsworth of GVA who acted on behalf of the vendor of Lighthouse View said: "This is fantastic news for the area and demonstrates that demand for offices in the East Durham area is improving. We are seeing office take-up increase across the region which in turn is leading to a growth in capital values and improving rental terms for property owners".