Naylors celebrate 25 years in business with further growth
January 2015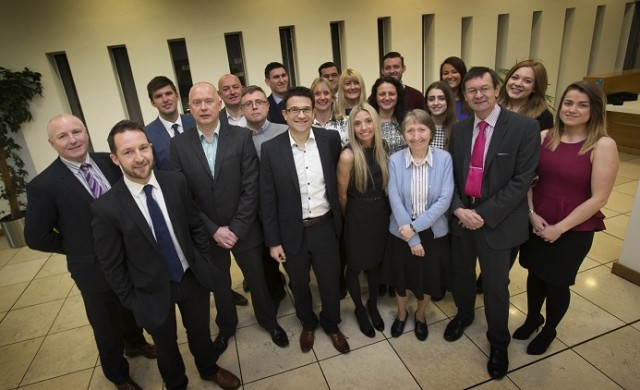 Naylors are celebrating 25 years in business and following an upturn in the commercial property market the firm has set its sights on further growth and anticipates 2015 will be its most successful year to date.
In 2014 Naylors' agency department disposed of in excess of 1.3 million sq ft of commercial space and achieved the largest office letting in East Durham for well over 10 years at Whitehouse Park.  The Building Consultancy team handled construction works in excess of £2 million and the management department grew its portfolio to 80 properties.
2015 is a set to be a year of further growth for the firm, who are looking to expand a number of service lines.  They are creating three new job opportunities including a Landlord and Tenant/Valuation Surveyor, a Graduate Surveyor in agency and a Facilities Manager to assist with their extensive management portfolio.  They have also recently employed the services of an Insurance Broker to provide building insurance for clients.
Naylors was established in Washington in January 1990 by founder, Bill Naylor, initially with three staff.  The business has since survived two recessions and has undergone significant growth and development.  Naylors now employ 25 staff including a number of trainee graduates and has offices in Newcastle city centre and Middlesbrough, making it the largest independent firm of commercial property consultants in the region.
Bill Naylor commented: "One of our greatest achievements is the status we have established as a key name in the region, respected for our professionalism, client service and integrity.  Whilst several national and international commercial property firms have entered the North East market over the course of the past 25 years, there has been significant consolidation and a number of firms have since left the region or downsized."
"During this time Naylors has remained ever-present and is one of the few firms to have grown in size over the last ten years and now encompasses strong Building Consultancy, Asset Management and Property Investment teams as well as the more publically known commercial Estate Agency and Valuation services.  We are proud to be at the forefront of the North East commercial property market and consider ourselves the leading locally owned and managed firm of chartered surveyors in the region"
Between 1993 and 2008 the firm ran a successful Team Valley office and became synonymous with this location.  Whilst they still remain one of the most active agents dealing with properties on Team Valley, they also market and manage a vast range of properties throughout the region and beyond.
Angus White, managing director, commented: "Being a niche, independent practice gives us flexibility to provide a personal and friendly but professional service.  We are very grateful to our supportive clients and loyal, hard-working staff, without whom we would not have a business. Our ambitions for the future are to grow and develop the company further, taking on further larger-scale instructions and adding to our service lines, whilst taking on a number of new staff.  We are very much looking forward to the next 25 years."