NAYLORS GAVIN BLACK APPOINTED TO MANAGE NEWLY REVAMPED WORKPLACE
September 2022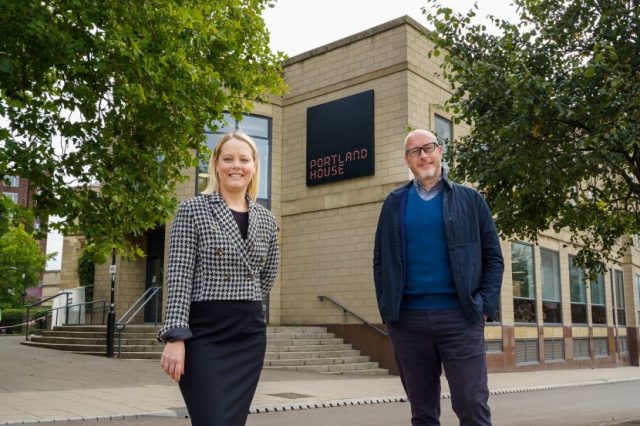 Naylors Gavin Black is delighted to have been appointed as managing agent for the newly refurbished Portland House as the building prepares to open to occupiers this Autumn.
Naylors Gavin Black's property management team, led by partner Katy Clark, will take on responsibility for running the 60,000 sq. ft. building.
Naylors Gavin Black will oversee all aspects of premises maintenance, compliance and building inspections, along with managing the building's competitive service charge which includes three-year fixed energy contracts.
Situated off Blue Square in Newcastle city centre, Portland House has received a multimillion-pound investment over the previous 12 months from developers Oliver Holland and James Keegan. The work has a seen the creation of an ultra-modern workspace for organisations requiring energy efficient and sustainable office accommodation. Eco-friendly lighting and carbon neutral flooring is part of a new-look interior, while special paints and technology will remove toxins and improve air quality for occupiers.
Katy Clark, partner at Naylors Gavin Black, which is based a short walk from Portland House at Hadrian House, said: "We are delighted to be appointed as managing agents and very much look forward to being part of the new Portland House. The building will deliver inspirational office space that will be able to provide cost savings for many organisations.
"New occupiers will be able to take advantage of the building's competitive running costs, particularly energy charges, which are fixed for a three-year period at a time when the market is highly volatile."
Oliver Holland said: "We're delighted with the appointment of Naylors Gavin Black to act on our behalf as managing agents for Portland House. We have worked hard over the last 12 months to ensure the building will meet the needs of modern-day office occupiers, so it's important to have expert property management services in place to ensure that the building is run efficiently and properly for the benefit of its tenants."