Naylors help launch new website for PAI
December 2016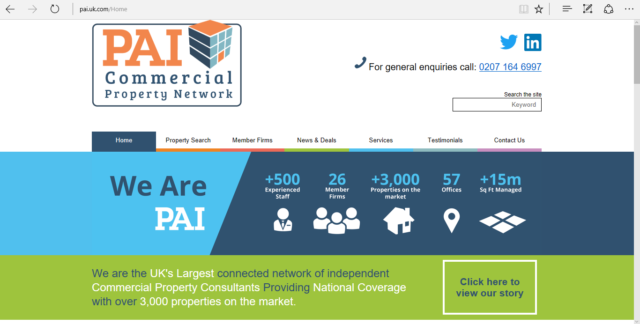 In November, Naylors were proud to be part of the unveiling of the new website for PAI, the national network of independent property consultants.
Fergus Laird of Naylors has been heavily involved in the creation of the new website, after being elected as Chairman of the working group, which was set up twelve months ago to deliver the site. The new website was unveiled at the annual PAI cocktail party in November at the RAC Club in Pall Mall.
PAI is a network of 26 independent firms across the UK which has been established for over 50 years. PAI offers the clients of its members access to this unique network of local experts within a specific region, and is able to refer clients to other members on a national basis.
Fergus worked alongside other member firms in Hull, Bristol, Devon and Cornwall to help create a site which now allows users to search over 3,000 properties, which comprises the instructions of all 26 member firms. Software development company Alcium were appointed to design and build the responsive website, which is compatible with smart phones and tablets.
Fergus Laird commented: 'The new PAI website is a huge step forward and we have already had some very positive feedback from clients. We will be launching a fresh PAI marketing campaign in 2017 and the website will be an integral part of that. As a network of firms, PAI comprises 56 different offices, over 500 staff and together we manage 15 million sq.ft of property. These figures are significant and put PAI alongside some of the largest real estate advisory firms in terms of scale.'
For further information please visit the PAI website www.pai.uk.com or contact Fergus Laird ferguslaird@naylors.co.uk