Naylors sponsor teenager's 500 mile cycling challenge for homeless charity
July 2015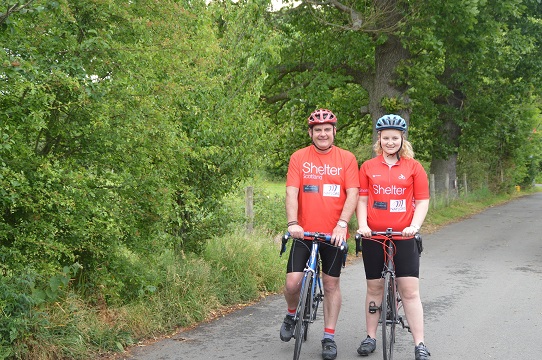 Naylors is sponsoring Grace Stewart-Piercy, a 14-year old from Lanchester who is set to cycle 500 miles to raise money for the homeless.
Grace will ride from Edinburgh to London in just seven days and hopes to raise £5,000 for housing charity Shelter along the way.
The teenager is no stranger to charity cycling marathons, but this will be her most daunting challenge yet.
When she was just nine she cycled coast to coast to raise £250, and the following year raised £1,100, cycling from Durham to Edinburgh and last year raised more than £1,500 cycling from Durham to London.
This year's epic ride will start on July 20 from Shelter's headquarters in Scotland and, with support from her dad Simon, will end a week later at the charity's offices in Old Street, London.  Newcastle-based Naylors are providing funds for Grace and her Dad's accommodation for the duration of the bike ride.
Fergus Laird, director at Naylors said: "We are incredibly impressed with the dedication and motivation that Grace has shown.  This is a huge challenge but we know she can do it and we are delighted to be sponsoring her along the way.  Shelter is a fantastic cause and we hope she reaches her £5,000 fundraising target."
Grace added, "This will be the longest and hardest cycle ride I've ever done but I'm excited to hit the road, have fun and hopefully raise money for a very worthy cause.
"I can't imagine how frightening it must be to lose your home and all of your belongings. I feel very fortunate to have a roof over my head and not have to worry about sleeping in a damp or cold house.
"If the money I raise helps just one person it'll be completely worth it."
Simon Stewart-Piercy said they couldn't wait to get going.
He said: "On the one hand, as her dad I'm very proud of Grace and everything she's achieved. On the other, as her riding partner, I'm quite nervous as her challenges are getting tougher year after year and sadly I'm not getting any younger.
"Grace has raised a lot of money for a very worthy cause when it would have been perfectly just as acceptable for her – as a teenager studying for exams – to put the brakes on and focus on herself".
For further information or to donate visit: http://www.justgiving.com/shelterbelter