Naylors to fly the flag for the region at MIPIM 2019
February 2019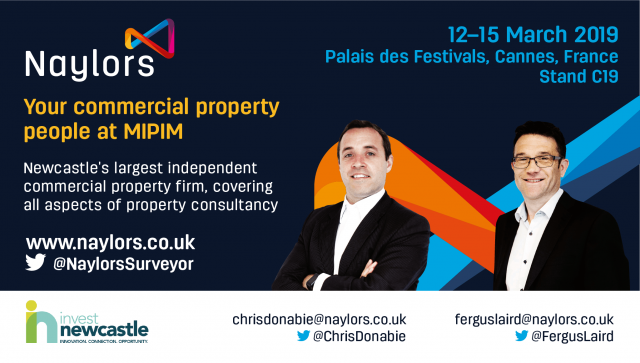 Naylors directors Fergus Laird and Chris Donabie will be heading to France in March to once again represent the firm and the region alongside Invest Newcastle.
This is the fourth year Invest Newcastle have led a public and private sector delegation, with their presence growing each year. MIPIM is an international property event which is taking place March 12-15 at Palais des Festivals in Cannes, bringing together some of the most influential investors from across the property sector.
More than 26,000 delegates from 100 countries attend, providing opportunities to connect with the industry's key decision makers. All partners play an integral part in promoting our regions strengths as one of the fastest growing places in which to invest, develop or locate.
The Newcastle stand provides a platform for partners to engage with investors and deliver an events programme that showcases the city's strengths and expertise around digital, technology, culture, healthcare and innovation. This year there will also be a focus on devolution and the opportunities it will bring. In addition, developments such as Newcastle Helix, East Pilgrim Street, Stephenson Quarter, Gateshead Quays and Baltic Quarter will be showcased at this renowned international property event.
Fergus Laird of Naylors said: " We are delighted to once again support and attend this fantastic event. MIPIM is a unique environment which brings together people from across the world to share ideas, meet new people and hopefully bring back some new business."
Jennifer Hartley, Inward Investment Director at Invest Newcastle said: " We are thrilled that so many partners will be joining us in Cannes, helping us to share our ambitions with an international audience, position ourselves as a leading city and secure investment. Our partners not only act as ambassadors for our region, they use this opportunity to develop strategic relationships, pitch ideas to key decision makers and connect with investors. This is such an exciting time for our region, and we can't wait to tell the international property world all about it."
Pat Ritchie, Chief Executive of Newcastle City Council, added: "The Newcastle delegation will be heading to MIPIM at a very opportune time, when we are in an incredibly strong position to demonstrate what the city and wider North of Tyne region can offer potential investors and showcase what a great place it is to do business.
"It is also happening when we have substantial growth in the city. Newcastle Helix secured substantial private sector investment at a previous visit to MIPIM, and is set to transform the economy, cementing our position as one of the leading cities for the digital economy in the UK and creating new opportunities associated with areas of research and innovation. With the additional prospect of the two other key strategic sites in the city which unlock further opportunities for investment across retail and commercial sectors – East Pilgrim Street and The Stephenson Quarter, the environment for investment and economic growth is significant".