Naylors to market big sheds at Port of Tyne
October 2015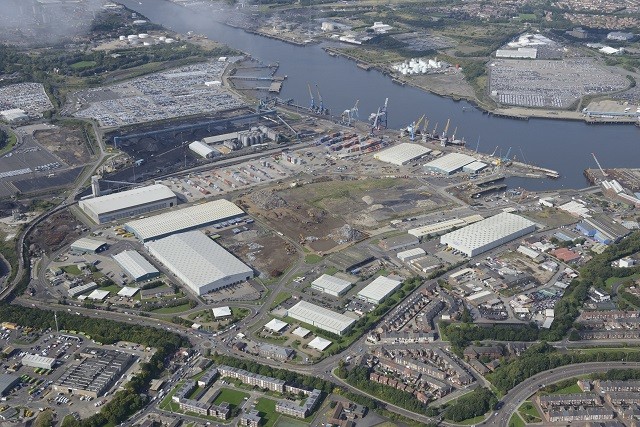 Naylors Industrial Agency team has been instructed by the Port of Tyne to market some of the largest industrial space available in the region.
Units 5, 6 and 20 at Tyne Dock, Port of Tyne in South Shields are coming to the market and will be ready for occupation early next year. The units, which total over 300,000sqft, are currently occupied by Vantec who will be relocating most of their warehousing operation to a 436,000sqft new build office and warehouse facility in Washington, close to their existing site.
Units 5 & 6 offer 91,890sqft and 83,944sqft respectively, which can be combined or leased separately, these units benefit from a loading dock, 6.3m eaves, office space and a one acre yard. Unit 20 offers 133,654sqft of space including warehousing with a high eaves of 12.3m, first floor office, mezzanine storage area and one acre of land.
Keith Stewart, head of industrial agency at Naylors said: "This is a fantastic opportunity to acquire secure, high bay warehouse and distribution premises in one of the region's best logistics locations with the advantage of award-winning Port facilities. It has been well documented that the North East is suffering from a lack of big sheds and units 5 & 6 combined will provide the largest industrial space available in the region. We anticipate a high level of interest given the size of the space available and the services the Port offers."
The units comprise part of the main development of high bay industrial units located close to the main Tyne Dock entrance of the Port of Tyne, with the A19 and Tyne Tunnel in close proximity.
The Port of Tyne is one of the UK's major deep sea ports providing a vital trading gateway to Europe and beyond. In 2014 it was named UK Port of the Year in the National Transport Awards. Investment of over £120m in the past 10 years has created the infrastructure to deliver continued growth of the Port's diverse businesses, encompassing conventional and bulk cargoes, car terminals, cruise and ferry, logistics and estates. The Port has attracted major brands including Argos, Nissan, Tetley, International Plywood, Ringtons and JML.
For expert advice on industrial sales, lettings and acquisitions Contact Keith Stewart on 0191 211 1559 email: keithstewart@naylors.co.uk