Naylors toasts success of new offices at Fenham Hall
October 2018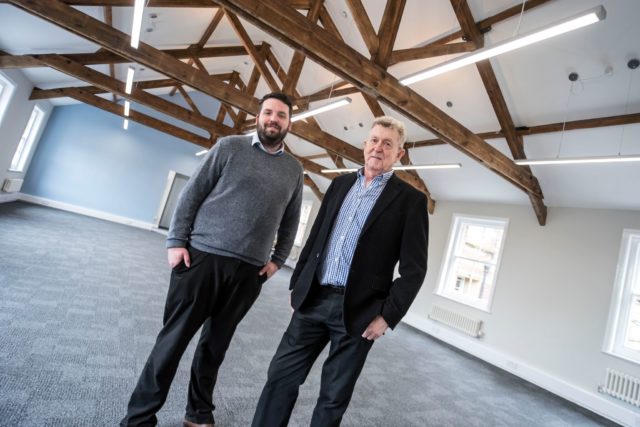 Naylors has announced the letting of two newly created office suites at Fenham Hall Studios in Newcastle.
The popular office complex, located in the private grounds of Fenham Hall, has recently undergone a £240,000 refurbishment to provide 2,000 sq.ft. of additional office space.
Since completion of the project, a new ground floor suite has been let to existing tenant The Roundhouse Design Consultants, taking their total occupancy at Fenham Hall Studios to 4,200 sq.ft.
The refurbished accommodation provides Roundhouse with additional studio space, a new director's office and a staff break-out area with WC facilities.
A newly created first floor 1,250 sq.ft. suite has also been let to HB Innovations on a 10-year lease negotiated by Naylors' office agency department.
James Fletcher, surveyor at Naylors said: "This refurbishment project has created some fantastic quality office space and we are very pleased to have helped secure the new occupiers.
"We find that businesses are attracted to Fenham Hall Studios thanks to the combination of ease of access to the city centre and a very attractive landscaped setting. There is currently a very limited level of new office space being created in Newcastle, so occupiers are actively interested in good quality opportunities when they arise. "
Following the latest lettings at Fenham Hall Studios, two ground floor office suites, both of which are eligible for 100% business rates relief have become available.
Peter Lambert of Fenham Hall Studios added: "Following completion of our refurbishment project, 2018 is proving to be a fantastic year at Fenham Hall. We are confident that the self-contained suites available on the ground floor will attract a healthy level of interest thanks in part to their eligibility for rates relief, which can provide a major saving for small businesses."
Fenham Hall was originally developed in 1745 by the Mayor of Newcastle, John Ord.
More information about the Historic Site and currently available offices can be obtained from Fenham Hall Studios Website at www.fenhamhallstudios.com/offices-to-let/