New large-scale industrial development unveiled in Washington
October 2018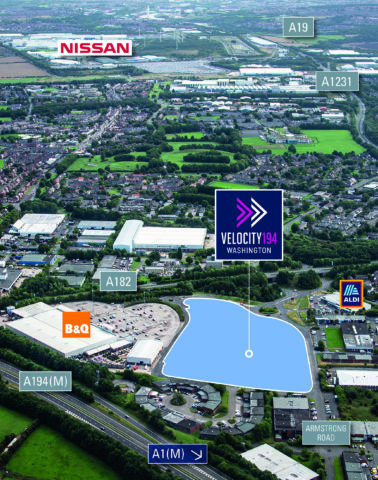 Naylors has been appointed as joint lettings by Argon Properties and Buccleuch Property who have recently acquired a 10-acre site adjacent to B&Q at Armstrong Way in Washington.
The first phase of development will deliver a single unit of 157,000 sq.ft of new industrial accommodation in a location with a healthy level of occupier requirements. Due to the site's close proximity to Nissan's manufacturing plant and the already secured high power supply, Velocity 194 represents one of the most viable opportunities for occupiers in the Nissan supply chain, who need new large Grade A industrial space.

Chris Donabie, director at Naylors said; "Velocity 194 is coming forward at the optimum time to satisfy a wide range of industrial requirements and we believe it will have particular relevance to the automotive sector. This is a strategic location which is well connected to the whole region given its ready access to the A19 and A1(M) as well as the region's ports.
"The availability of large-scale industrial space in the region has fallen dramatically in recent years as a direct result of strong demand and inadequate new supply. Whilst there are a handful of other potential developments in the pipeline, Velocity 194 has made significant progress behind the scenes and will offer occupiers certainty as to delivery of a building to meet their timescales."
Detailed planning consent for the scheme was granted in October and the agents report that new accommodation could be delivered at Velocity 194 as early as the third quarter of 2019.
Chris added; "We are able to offer both freehold and leasehold opportunities, which can be designed to meet an occupier's bespoke requirements. Companies operating in the automotive sector often have specialist requirements, which means they are best suited to new development solutions."
For further details on the opportunities available at Velocity 194 please call 0191 2327030 or email: chrisdonabie@naylors.co.uk