Palace Capital appoints Naylors Gavin Black as joint agent for major Newcastle City Centre office scheme
May 2022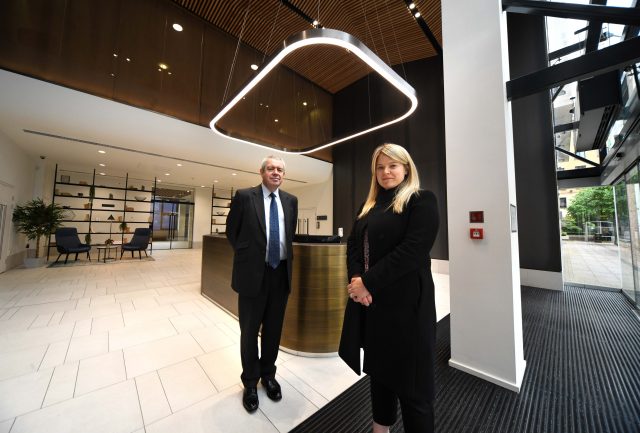 Newcastle's leading commercial property consultancy Naylors Gavin Black has been appointed by a London-based plc to market 'one of the best office space in the city' in a show of post-pandemic confidence in city centre working.
St James Gate has recently undergone an extensive refurbishment following a multi-million pound investment by owners, property investment specialists Palace Capital plc.
Palace Capital has appointed Naylors Gavin Black as joint agents with Knight Frank to market the refurbished office buildings at Nos 2 & 3 St James Gate, with a total of around 40,000 sq ft available. The improvement works, which feature 'plug & play' internet access to enable hot-desking and a balcony with panoramic views across Newcastle, has created what is one of the only pillar-free refurbished open plan office spaces available in the city centre, offering a flexible and adaptable space.
Jessica Ross, an associate partner at Naylors Gavin Black, believes the recent refurbishment delivers some of the best space in the city and we are delighted to be acting on behalf of Palace Capital to find the right occupiers for the space.
She said: "St James Gate is midway between Central Station – which is just two minutes away – and the exciting developments at Forth Goods Yard and Quayside West, placing the property at the heart of developing quarter in the city.
"Palace Capital correctly identified that this is an area on the up, and has transformed the properties into an office complex fit for the post-pandemic era, with a focus on attracting occupiers from many sectors through installation of super-fast internet and a sleek, modern aesthetic running throughout the building.
"It has one of the only open plan and pillar free refurbished spaces in Newcastle, and the glazing wall provides natural light, which along with the seventh floor balcony, offers unrivalled panoramic views across the city."
Daniel Davies, Senior Asset Manager, at Palace Capital plc, said: "No. 2 and No. 3 St James Gate is one of Newcastle's most premium office spaces, and one of the finest and accessible locations available to businesses anywhere in the North of England right now.
"We have undertaken this programme of refurbishment investment in response to the changing demands of businesses, which are looking to attract employees away from a solely home-working lifestyle following the Covid-19 pandemic, into a hybrid form that encompasses collaborative, in person team activities.
"Employees – especially those in the technology and creative sectors – don't want to work in a boring beige office block. They want dynamic workplaces, which are not only functional and have the very best technology, but also look fantastic and are placed close to amenities, that offer a vibrant city centre living and working experience. St James Gate ticks all those boxes and we look forward to welcoming new tenants now that the extensive works have completed.
"Naylors Gavin Black is recognised as one of the best property consultancies in the region and so was a natural choice when we were looking for a partner for St James Gate. As a specialist in regional property developments, we always look to work with the very best firms in the cities where we are investing."
Go to www.stjamesgate.co.uk for more information.