Bespoke industrial units announced at new County Durham development
January 2020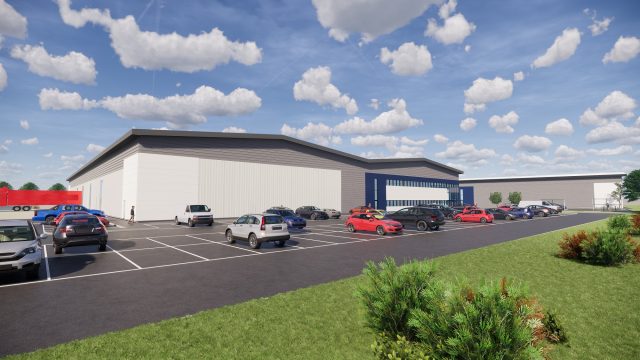 Developers have announced plans to bring forward a new industrial scheme on the last parcel of land at Drum Industrial Estate in Chester le Street.
A joint venture between Argon Properties and Buccleuch Properties, Panther Court will deliver two new industrial properties to help satisfy demand for large, high-quality units.
The developers have appointed Naylors Gavin Black LLP and Cushman & Wakefield as joint agents to begin marketing the units of 45,000 sq.ft and 80,000 sq.ft, which will transform the vacant development site close to the A1(M).
Richard Wilks, managing director of Argon Properties said: "There is currently an undersupply of good quality modern industrial space in the region, particularly units over 25,000 sq.ft. Given its position only one mile from Junction 63 of the A1(M), we are confident Panther Court will appeal to a wide range of businesses.
"At this stage of the development process we can still offer bespoke solutions to accommodate occupiers' individual requirements and we are very pleased to begin the marketing of the scheme with the support of Naylors Gavin Black, Cushman & Wakefield and the team at Business Durham."
Joint venture partners Argon Properties and Buccleuch Properties are also working together to complete Velocity 194, a 10-acre £17m industrial development in Washington.
Chris Donabie, partner at Naylors Gavin Black, said: "Major occupiers such as Komatsu, Parcelforce, Coveris and the Co-op have all established their own industrial facilities at Drum so it is clear that there are commercial advantages to this location.
"We can deliver new premises before the end of 2020 which means we can react quickly to help accommodate expanding or new businesses who may have specific requirements."
Richard Scott, partner at Cushman & Wakefield added: "Opportunities to design and build a bespoke property in such a sought after location don't come around often, so interested parties are advised to come forward quickly.
"Drum Industrial Estate offers excellent regional access thanks to the proximity to the A1(M) and we are in a position to offer more competitive rental packages than schemes at many competing locations."
The specification of the units at Panther Court provide businesses with high eaves manufacturing and warehousing space incorporating good standard office accommodation, large service yards, on site car parking, loading docks and level access doors.
For more information please contact Chris Donabie