Collingwood House is fully let
July 2014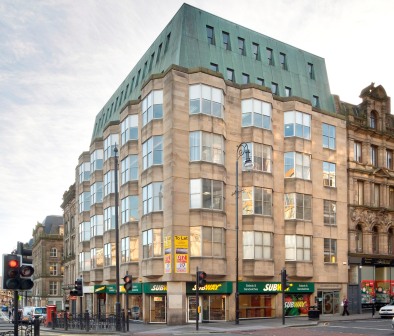 Naylors Chartered Surveyors have let the last two remaining floors of the prestigious Collingwood House in Newcastle city centre.
Frank Recruitment Group (FRG), who already occupy the nearby Metropolitan House on Collingwood Street, have just agreed a six year lease on an additional 4,500 sq ft of office space.
Simon Taylor of Naylors Chartered Surveyors who let the office space on behalf of owners, Buccleuch Property Fund, commented: 'Collingwood House is a modern, fully serviced, seven storey office building in the heart of Newcastle's commercial centre.  The attractive building and its central location makes it an ideal fit for FRG's growing business. The lease of the 5th and 6th floors will provide the firm with the potential to extend their working space for in excess of 40 staff.'
FRG is a specialist international recruitment business operating in Europe, North America and Asia Pacific. Its core business is the placement of candidates into niche software product sectors. Established in 2006 in Newcastle, Frank Recruitment Group has rapidly grown into a global leader in Microsoft recruitment. With additional offices in London, New York, San Francisco, Atlanta, Singapore and Melbourne, the company offers their Microsoft partner and end user client's unparalleled access to the widest range of high calibre candidates.
FRG needed additional office space following continued business expansion and a subsequent increase in headcount.
Sean Wadsworth, CEO and co-founder, commented "We're delighted to have sourced such high quality office space on Collingwood Street within walking distance of our global HQ.  We're actively looking for 40 staff to join our sales team in Newcastle by the end of 2014 and this additional office will house our support team giving us more room in our headquarters for sales staff.  Naylors property agents provided a highly professional and swift service in relation to this transaction.'
Naylors Chartered Surveyors and DTZ were joint appointed letting agents for Collingwood House, Naylors also manage the building on behalf of Buccleuch Property Fund.