Global Head of Neuroscience Discovery marks the official launch of The Biosphere
July 2019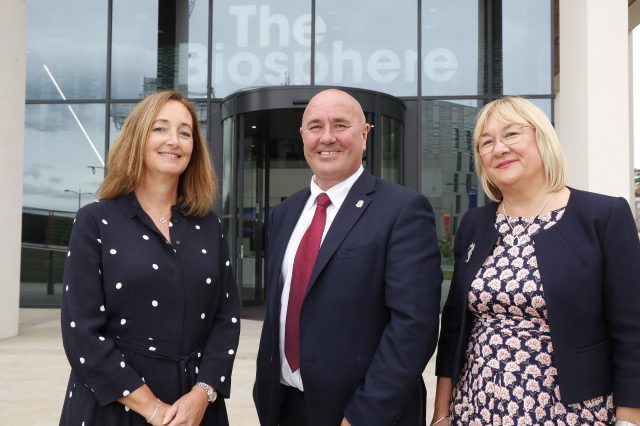 On Thursday 4 July Dr. Fiona Marshall, Global Head of Neuroscience Discovery, MSD visited Newcastle to mark the official launch of The Biosphere.
Located at Newcastle Helix, The Biosphere is a specialist lab facility tailored to commercialisation of life sciences. It provides biology and chemistry laboratories and high-quality office space.
Dr. Fiona Marshall was joined by Cllr Ged Bell, Cabinet Member for Employment and Investment and Pat Ritchie, Chief Executive, Newcastle City Council who used this opportunity to bring the sector together and thank everyone who has been involved in the project to date.
Held at The Biosphere, this event was attended by key figureheads from the business community, academics, funders and other key stakeholders from across the region.
MSD is one of the top biopharmaceutical companies in the world. Dr. Fiona Marshall joined them as Vice President Head of Discovery Research UK and has since taken on the role of Global Head of Neuroscience Discovery.
Dr. Fiona Marshall said: "I would like to congratulate Newcastle City Council on their vision of creating a new bio tech cluster, helping to attract new investment and facilitate new innovations that have the potential to impact people right across the world.
"I would also like to take this opportunity to thank Newcastle for making me feel so welcome. It was a pleasure to officially open The Biosphere, a building that will play a vital role in the growth of the life science sector. The spirit of innovation is really alive in Newcastle and there is so much support to help companies to develop and grow. The range and quality of the science happening in the Biosphere is remarkable and I have no doubt that more and more academics and entrepreneurs will choose Newcastle as a base to commercialise their products and new discoveries."
Cllr Ged Bell, Cabinet Member for Employment and Investment, Newcastle City Council added: "This event provided an opportunity to celebrate the story so far and showcase this specialist facility locally, nationally and internationally. The Biosphere was a significant investment for the local economy and marked a clear commitment to life sciences growth. So much has been achieved since 2015, the design, construction and operation of a new lab facility that is now home to 10 dynamic life science businesses with global life-changing ambitions.
"We now have the right infrastructure that will allow new and growing life science businesses to thrive, and as this happens it will bring more opportunities and jobs to the local area in this emerging and exciting new sector. This coupled with the innovative community on Newcastle Helix will help accelerate growth, entrepreneurial activity and the commercialisation of ideas within life sciences. I would like to take this opportunity to say a huge thank you to everyone involved."
The Biosphere is already home to several leading life science businesses including Iksuda Therapeutics, NorthGene, Jiahua, MDNA Life Sciences, Northern Retrieval Registry, Alcyomics, Atelerix, Newchem, Biberchem and Demuris.
NorthGene who are a leading provider of DNA-based relationship testing and human identity services were among the first companies to move into The Biosphere. They needed cutting-edge lab facilities to support the rapid growth of their business and the expansion of their testing repertoire.
Ryan Wetherell, Operations Manager said: "Newcastle is the ideal place for a growing life science business. The city has a strong reputation for research excellence led by two outstanding universities, four national centres of excellence and one of the UK's leading NHS trusts. Additionally, Newcastle has great local and national transport links which are essential for our 'direct to consumer' testing services.
"The Biosphere is in the heart of a supportive, business community that actively collaborates and pulls in the same direction to achieve shared growth. Newcastle's life sciences community is thriving, helped in no small part by the supportive infrastructure provided to growing Biotechnology industries."
They are joined by Iksuda Therapeutics, who are leading the way in creating next generation biopharmaceutical drugs that target difficult to treat cancers.
Dr David Simpson, Co-founder and CEO at Iksuda Therapeutics said: "We were actively looking for centralised laboratory space to enhance our position in the bio tech space. Once the region had committed to the build, and with the opportunity to create a bespoke space for Iksuda our relocation to The Biosphere was never in doubt. As well as the specialist cutting edge facilities, the eco-system at Newcastle Helix was a key driver for us.
"The model for clusters and scientific centres of excellence is well proven globally to enhance the success rates of biotech companies. The region has a growing biotech cluster and is well positioned to access key technical skills needed to deliver our research programmes. We are delighted to be part of the Helix community and a fast-growing life science sector here in the North East."
The Biosphere is based on Newcastle Helix – a landmark 24-acre hybrid city quarter in the centre of Newcastle, built for international tech and science businesses, the local community and residents.
Kier were chosen to build the new facility which was designed by Ryder Architects. Property and Facilities Management Services are delivered by established building consultancy, Aura North East – all who benefit from commercial and technical guidance from life science specialist Cam-Sci.
The Biosphere has secured significant funding through the current European Regional Development Fund (ERDF) and the Government's Local Growth Deal through the North East Local Enterprise Partnership (LEP). Both funds help local areas stimulate their economic development by investing in projects which will support innovation, businesses, create jobs and local community regenerations.
Minister for the Northern Powerhouse and Local Growth, Jake Berry MP, said: "We're committed to boosting economic growth across the Northern Powerhouse and building a Britain fit for the future. I am delighted to see the official launch of The Biosphere, made possible with £8.6m from the Local Growth Fund. This highly impressive building is a fitting example of the North's growing international reputation for excellence in life sciences and biotechnology."
Alan Welby, Innovation Director at the North East LEP, added: "The Biosphere offers regional facilities but with a global vision, presenting a welcoming home for ambitious companies within life sciences, healthcare and emerging fields of biotechnology. Being based at Newcastle Helix not only gives companies access to essential support services but also opens a wealth of opportunities such as access to university expertise and research but also the potential of collaboration with others on site – and it's when companies collaborate that will see real innovation happening which can unlock business growth and ultimately lead to more and better jobs."