Naylors to market Sunderland Marine's HQ
March 2015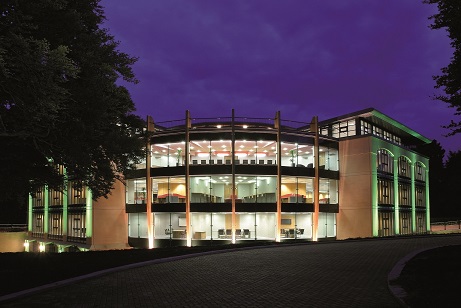 Naylors office agency team has been appointed to market Sunderland Marine Insurance's award-winning office headquarters at Aykley Heads Business Park in Durham, following their merger with The North of England P&I Association (North) to create the North Group.
The international marine insurance business will be relocating its 60 staff to North's offices on Newcastle's Quayside as part of its process to integrate operations, and marketing its Aykley Heads office, Salvus House, which is now surplus to their business needs.
Salvus House is a five-storey, 32,561 sq ft, modern office building on a 1.9 acre site and is available with the option to lease or purchase.  It was constructed in 2005 for Sunderland Marine Insurance and has won multiple awards including; the RICS Renaissance Award, The Journal Landmark Award and a Construction Excellence Award.  The property was designed by Nicholson Nairn and built by Whelan.
Naylors' head of office agency, Simon Taylor said: "This is a fantastic instruction for Naylors, Salvus House is one of the finest modern office headquarters in the North East. The property has been designed and built to an exceptional standard with the benefit of a high quality fit-out and bespoke fixtures and fittings.  It offers a rare opportunity for the Durham office market, where large modern offices of this calibre are in very limited supply and would be ideal for a business looking to acquire its own private headquarters".
North Group was formed last year following the merger between North and Sunderland Marine, two of the longest-established and most successful international marine insurance businesses.  The merger created one of the largest global marine insurance operations, with a premium income of over US$500 million, free reserves of US$350 million and total assets of US$1,500 million.
Salvus House is being marketed at £15 per sq ft to let, an asking price for purchase hasn't been disclosed.