Speculative Team Valley scheme secures first tenant
August 2017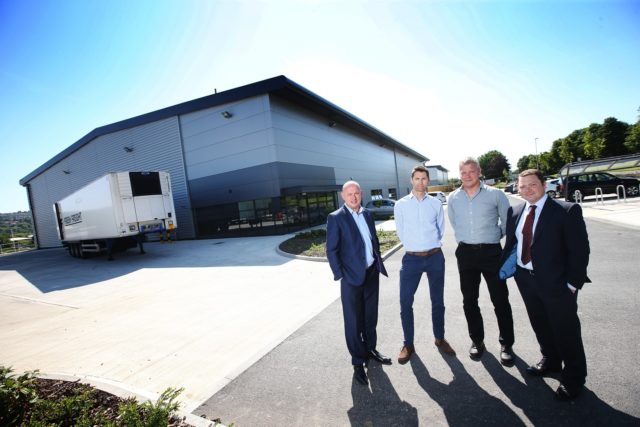 UK Land Estates has announced the first letting at its latest speculative development, Dukesway Central.
Rapidly expanding snack manufacturer, It's All Good (IAG) has taken a lease on the largest unit at the Team Valley industrial scheme, following a period of sustained growth.
The Dukesway development completed last month following a nine-month build programme and comprises of three high specification industrial units extending to a total of 58,000sqft.
IAG has been based on Team Valley since 2012 and is best known for its premium tortilla chip brand Manomasa, which is stocked in Waitrose, Sainsbury's and Tesco.
The new 26,000 sq ft premises will be used for warehousing as part of the firm's continued expansion in addition to its existing unit, also on Dukesway.
Keith Stewart of Naylors, appointed joint letting agent on the scheme, said: "Dukesway Central is the first speculative scheme of its size in the region for eight years. The development has been very well timed in order to provide high quality industrial units, for which there is strong demand in this location.
"A headline rent of £7.45 sq ft has been agreed and we are confident that the two remaining units will have similar success."
IAG, which currently employs in excess of 200 staff, expects to make further appointments as it increases production on Team Valley.
Michael Weatherhead, director at IAG said: "We have experienced sustained growth over the past five years which has led to the need for additional storage space. As a result we are continually looking to recruit new staff to keep up with demand.
"The proximity of Dukesway Central to our headquarters made it very appealing and the configuration of the unit works well for us. We are currently fitting out the building and will be operational very soon."
David Finnigan, director at UK Land Estates added: "As a speculative development, Dukesway Central perfectly demonstrates our confidence in the local economy and more specifically the strength of Team Valley as a location.
We are delighted that our endeavours have been rewarded with the letting to IAG who are a tenant well known to us, as an existing occupier within our portfolio for the last five years.
With strong interest in another one of the units, we look forward to making further announcements soon."